Zelda Mommy + Me Bracelet Set
Beautiful Zelda Bracelet. 
This listing is for two bracelets- one adult size and one child size.  On the options the first option is for the length of the baby bracelet and the second option is the length of the mommy bracelet.
Baby bracelet comes with an added .5" extender so it can grow with your baby.
Chain is 14k gold filled so it will not change colors, tarnish, or leave marks on your wrist
This is a high quality metal with a long life
Please measure your and your little one's wrist ahead of time to get the right bracelet length
All items come in a hand stamped box perfect for gift giving. Items bought together will be packaged together, up to three items per box.  If you would like additional gift boxes you may buy them here.
Follow on instagram at @shopheyjune for sales, deals, and giveaways.
At Hey June, all of our necklaces, bracelets, huggies, and hoops are gold-filled or sterling silver pieces!  Gold-filled jewelry means that there is a layer of real gold bonded over brass- it is tarnish-resistant and hypoallergenic. These are pieces you can put on and keep on. Gold-filled jewelry gives you the beauty, quality, and durability of solid gold without having to pay for it! Wahoo!
With proper care and handling, your gold-filled or sterling silver piece can give you a very long and happy life! Here are our recommendations for keeping your piece looking pristine!
Store in an airtight bag when not wearing

Wipe jewelry off after swimming or lots of exposure to water or other elements.

Avoid contact with sunscreen, cleaning products with bleach, perfumes, scented lotions, hairsprays, etc. If your piece does have contact with these things, no biggie, just wipe it off as soon as possible.

Gently clean your piece with water and mild dish soap if it starts to look worn.

Use a soft anti-tarnishing cloth

on your gold-filled or sterling silver piece to remove stubborn dirt.
See our full Jewelry Care Guide for more details. 
RETURNS
Hey June is happy to offer store credit on the return of jewelry within 30 days of purchase. On custom made pieces (necklaces or bracelets) there is a $4 restock fee that will be deducted from the amount of store credit you receive. To initiate a return, email help@shopheyjune.com with your order # and your name and we can get the process started.
EXCHANGES

Hey June will exchange an item within 30 days of purchase. To exchange the item, we ask that you follow the steps for the return listed above and then repurchase the item that you want. 
DEFECTIVE OR BROKEN JEWELRY 
Hey June will replace any jewelry that is defective, scratched or breaks within the first 30 days of purchase. After 30 days of purchase, you can pay a minimal fix it fee and we can fix your necklace if it is broken at the jump ring or clasp. We cannot repair a chain that is broken in the middle of the chain. You may purchase the fix it fee here.
TARNISHING JEWELRY
All of our gold-filled jewelry is anti-tarnish. That means with the proper care it will retain its color and shine. Please read our jewelry care guide for information on how to keep your pieces looking pristine for the longest amount of time possible.
If your jewelry tarnishes we offer the following:
WITHIN 30 DAYS
We will replace the item at no cost to you
30–90 DAYS
We will offer a one time use code to replace the item at 50% of its original cost.
90+ DAYS
We ask that customers are responsible for replacing their own items
CANCELLING AN ORDER
You may cancel an order and receive a full refund if our team has not started fulfilling the item yet. To see if your order qualifies for cancellation, please email help@shopheyjune.com with your order number.
ADDING LENGTH
If you have ordered a wrong length we highly recommend purchasing our removable 2 inch extender. This will give added length to any jewelry piece. Otherwise, you may return the item for store credit minus the $4 restocking fee and then repurchase the correct length. This process must be initiated within 30 days of purchase.
For full policies and procedures, please see here. 
Customer Reviews
Write a Review
Ask a Question
02/09/2022
Holly R.

United States
Daughter loves matching Mommy
I bought these bracelets as a Christmas gift for my daughter. It's her first piece of jewelry and she loves matching me. Very happy with the quality! We haven't taken them off since Christmas.
07/01/2021
Brittani W.

United States
My daughter loves matching
My daughter(3) and I have been wearing our matching bracelets since May and we haven't taken them off. They are so so so so sweet and we get tons of compliments.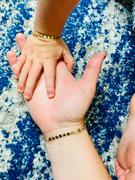 05/06/2021
Lindsay K.

United States
Best First Time Mama Gift!
These are so sweet and special. I was thrilled to get them for Mother's Day.